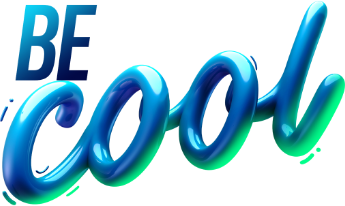 Switch to Heat-Free EcoTank Printers
Make the sustainable choice with fast,
eco-efficient Epson EcoTank printers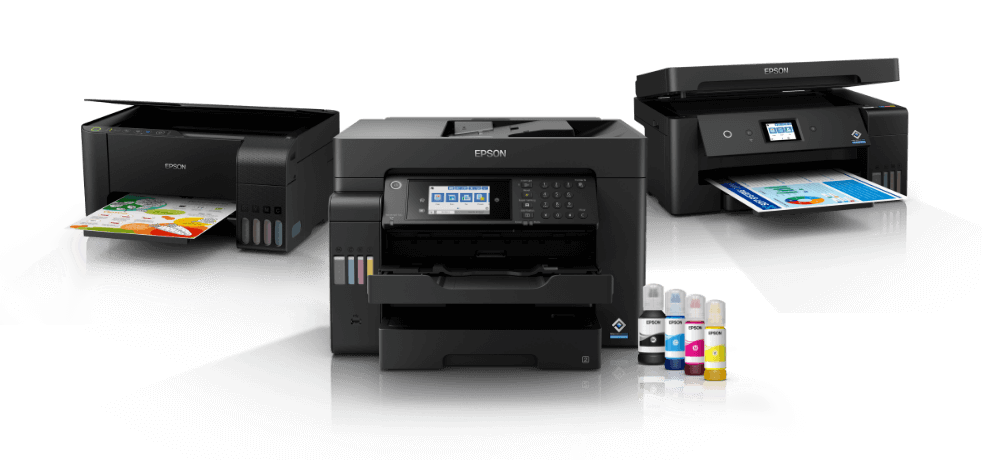 Make the Sustainable Choice with Epson EcoTank
Epson EcoTank printers bring together eco-conscious technology with efficient features to help you be more sustainable and productive. Combining power-saving Heat-Free Technology with a refillable ink tank system, they can help you save energy, time and money.

Save time with consistent high-speed printing, with no need for the printer to warm up, prints can start immediately. Once you've started, you get consistently fast printing, even for high print-density jobs.

With no fuser unit to heat, EcoTank printers consume less power than laser printers, keeping your energy bills under control.

Reducing waste is a critical part of being more sustainable. Thanks to our Heat-Free Technology, our inkjet printers require significantly fewer replacement parts than laser printers, helping to reduce your environmental impact.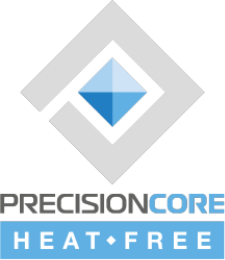 Powered by Heat-Free Technology, our EcoTank printers do not require heat in the ink ejection process. This means your business increases productivity while reducing its environmental impact
Better for the environment
less power consumption
vs laser printers1

less CO2 generated
vs laser printers2

less replacement parts
vs laser printers3
Low running cost over time
Affordable ink bottles with ultra-high page yield of up to 7,500 pages help keep print costs low, resulting in a low total cost of ownership in the long run.

Try our TCO calculator to see your potential savings with EcoTank.
How far we've come
To date, over 80 million EcoTank printers have been sold worldwide, contributing to a significant reduction in the use of plastic, which is one of the main components in ink cartridges. We have also successfully avoided 658,867 tons of CO2 emissions from consumables in this time.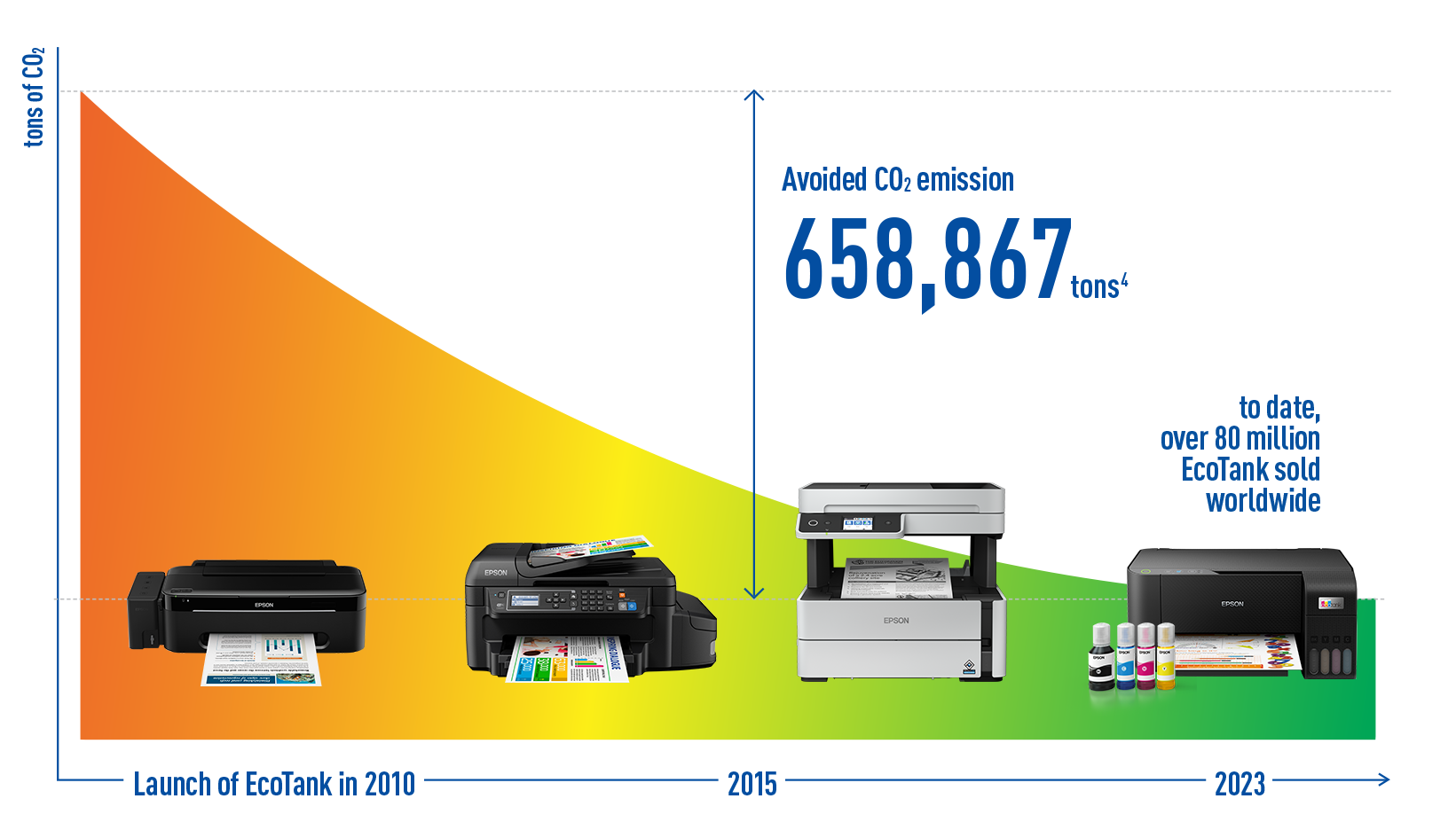 Sustainability.
It's in everything we do
It's our print technology innovation that has helped us make these advances in sustainability and product efficiency. The Epson piezo printhead utilises pressure to eject ink by means of piezo elements. This method uses no heat and requires no contact with media, meaning there is no degradation caused by friction and heat. The piezo elements are made of ceramic, are highly durable and resistant to heat and can be used throughout the product life.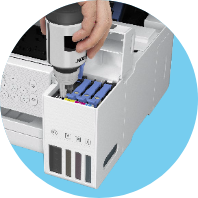 84%

less consumables vs IC models6

EcoTank printers are equipped with a large-capacity refillable tank instead of cartridges, therefore, the amount of plastic used can be reduced.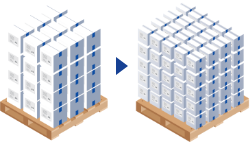 16%

improved7 transport efficiency

Compared with the first EcoTank, the latest generation of Epson EcoTank pinters have 16% improved transport efficiency.

50%

more efficient than ENERGYSTAR® requirement10

We are making energy-saving efforts such as minimising the power consumption during sleep mode.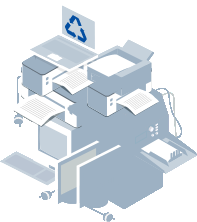 Use up to

30%

recycled plastic for hardware5

EcoTank uses the recycled plastics from IT equipment such as printers and computers that are no longer used. In this way, we will reduce new resource consumption and achieve our goal to be underground resource free by 2050.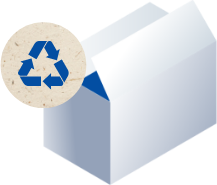 Over

80%

recycled cardboard

Our cardboard utilises wood fibres, all of which are 80% recycled.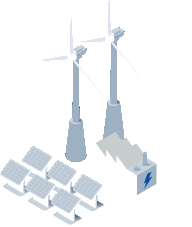 Assembled8 using

100%

renewable energy

Epson will transition to 100% renewable electricity at all Epson sites

9

by 2023.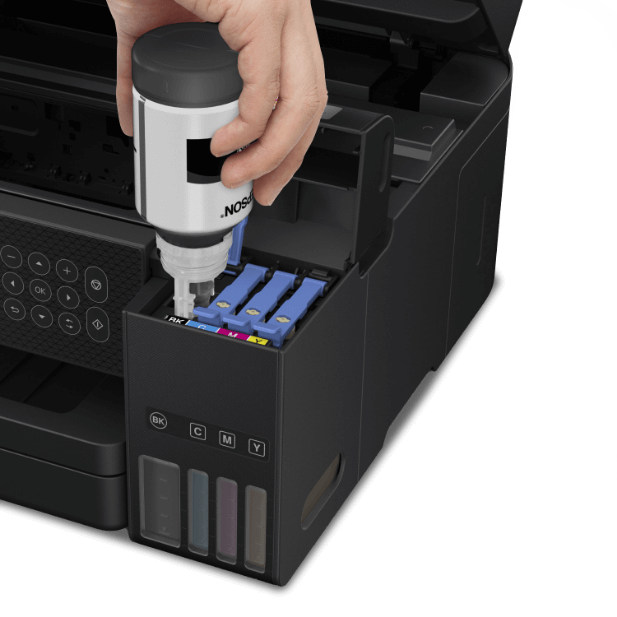 High productivity
Spill-free bottle design with individually designated nozzles that fit each ink tank makes ink refilling effortless. With fewer parts to replace and maintain, productivity is enhanced with less downtime expected.
No.1 ink tank printer for 13 years running
Known for our printheads' reliability and durability, Epson EcoTank printers have consistently been the market leader for ink tank printers, taking pole position since 2010. To date, more than 80 million units of EcoTank have been sold worldwide.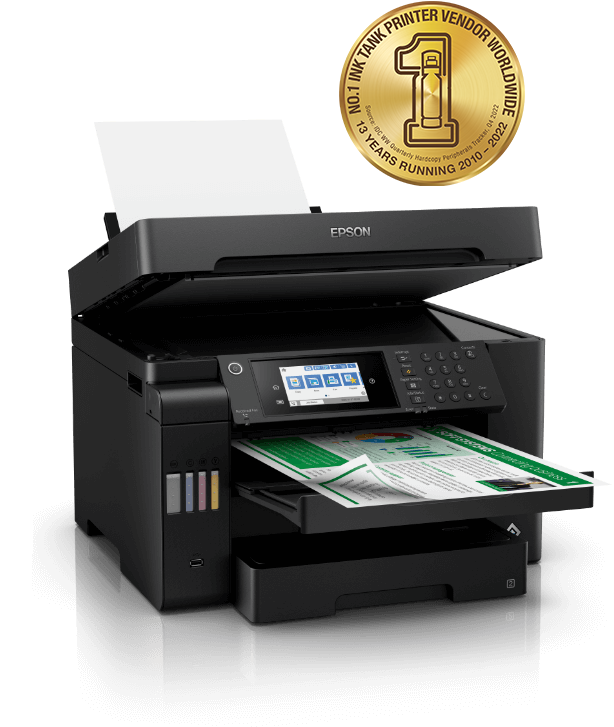 Talk to us
For more information or to request a demo, please complete the form below.
Statistics above are based on results from internal testing conducted by Epson, using Epson L6550 ISO Color 12ipm vs Laser model ISO Color 22ppm test for power consumed to print 20 pages. Testing single page A4 document of ISO Office Final PDF (ISO/IEC 24734). Each test was conducted twice by Epson to ensure consistency of results. Both printers have been tested under same conditions.
Annual CO2 output calculations were based on JEMAI-LCA Pro. Cedar tree CO2 absorption calculations were based on Japan Forestry Agency standards of 8.8kg CO2 per annum per tree.
Statistics above are based on results from internal testing conducted by Epson.Comparison models were selected from among the top-selling 50% of A4 color laser printers (21-30ppm class) listed in IDC Worldwide Quarterly Hardcopy Peripherals Tracker 2019Q3 data CY2018Q4-CY2019Q3 results. The volume of consumables and replacement parts needed to print 200K pages was calculated by Epson based on yields published by the manufacture for each model. Quoted yields are stimulated figures calculated by Epson based on ISO/IEC24712 methodology.
* Applicable to 001 and 008 ink bottles (page yield of 6,000 for colour and 7,500 for black) ** Applicable for 008 inks only.
The size of the avoidance in consumables CO2 emissions was calculated by comparing the cumulative number of ink bottles sold up to February 2023 with the number of ink cartridges required to print the same amount and converting their weight into a CO2 equivalent. CO2 emissions were calculated based on Epson's evaluation conditions, which take into account the impacts from consumables materials and parts manufacturing. Actual CO2 emissions will vary depending on customer printer use.
Ratio to the amount of plastic weight. The amount of recycled contents and recycled material varies depending on the model, manufacturing time, and site. Applicable to L6200/L4200 series.
Material weight comparison of consumables (including packaging) between Epson ink cartridges of WF2631 and Epson ink bottles of L6200/5200/4200/3200/1200 series.
Comparison of the number of units that can be loaded per container between L3150 series & L3250 series.
Main assembly plant Philippines only
All sites referenced in this release excludes leased properties for sales offices, etc., where the amount of electricity cannot be determined.
Energy consumption during sleep mode comparison based on ENERGY STAR Program Requirements. For more information, visit www.energystar.gov
Limited to 005 high capacity ink bottles
Warranty coverage of 4 years or 50,000 pages, whichever comes first, printhead included.