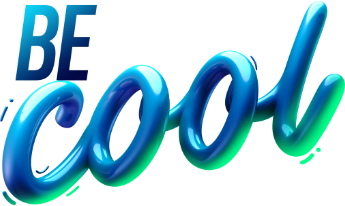 Achieve more energy savings with
eco-efficient Business Inkjet Printers
Make the sustainable choice with fast, eco-efficient business printers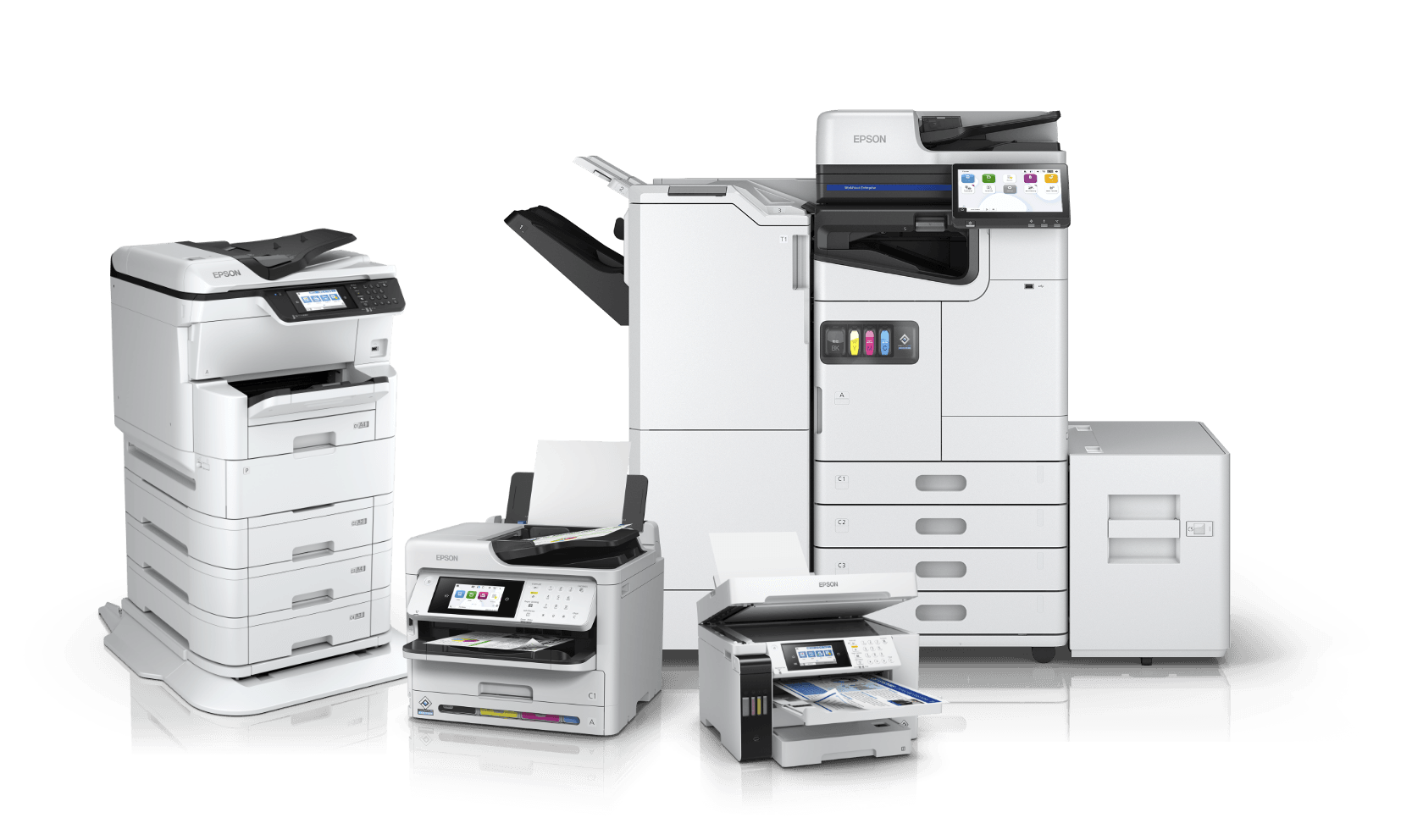 Heat-Free Technology
Sustainability that makes business sense
If you're looking to balance business productivity and sustainability objectives, Epson Heat-Free business inkjet printers offer you the best of both worlds. Reduce your energy consumption, cut your bills, and boost operational efficiency with fast print speeds and minimal downtime. Get the best of everything, stay cool, and switch to a Heat-Free inkjet printer that's better for business, better for the environment, and better for you.

Save time with consistent high-speed printing

Since no heat is required to warm up, it allows the printer to print immediately within seconds of first print-out time. The consistent high-speed printing further helps ensure increased productivity in workplaces.

Less power consumption, saves energy and money

With no fuser unit required to heat and fuse the inks, our printers help reduce energy consumption compared to laser printers, resulting in more savings on electricity bills.

Fewer replacement parts, lower environmental impact

Uses fewer replacement parts than laser printers. As our printhead is not a consumable, it greatly reduces impact on the environment.
Heat-Free Technology:
How it works
Epson Heat-Free Technology does not require heat in the ink ejection process. Instead, pressure is applied to the Piezo element, which flexes backwards and forwards firing the ink from the printhead. This means printer parts last longer, reducing energy consumption, saving energy, time and money in the process.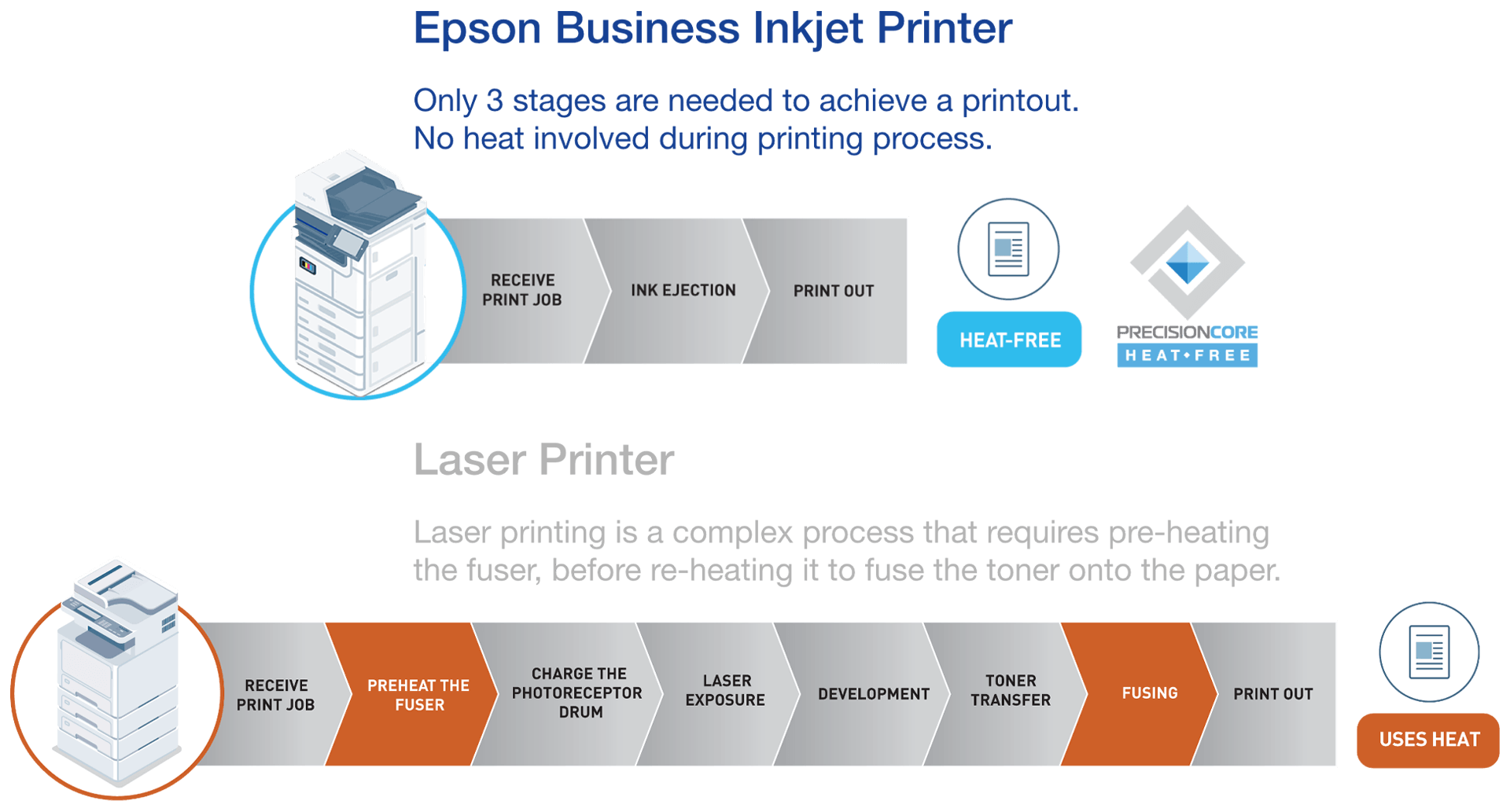 Built for the environment
less power consumption
vs laser printers1

less CO2 generated
vs laser printers2

less replacement parts
vs laser printers3
Boost productivity
Powered by Heat-Free Technology, our business inkjet printers are engineered to print at consistently high speeds. Enhance your office productivity with less downtime for maintenance due to the simple structure and fewer replacement parts with our eco-friendly printers.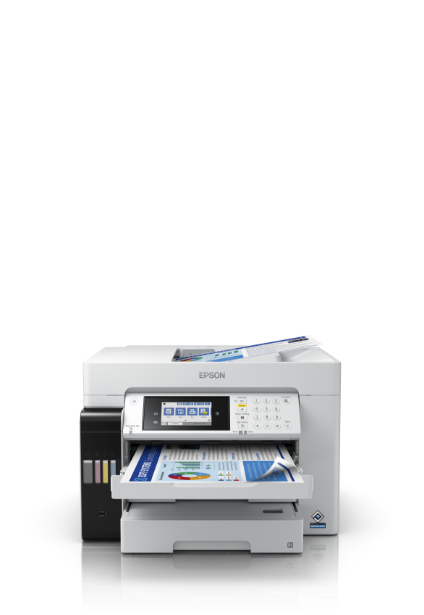 Business EcoTank Series

Desktop entry-level segment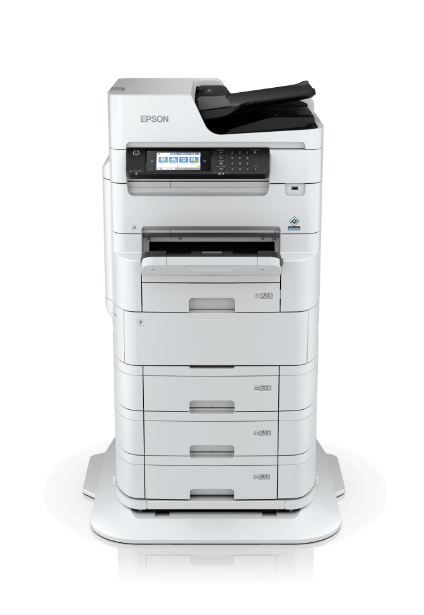 WorkForce Pro Series

Office entry-level segment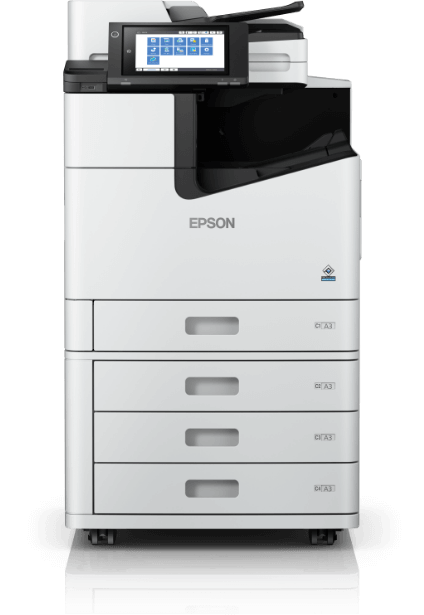 WorkForce Enterprise Series

Office high-speed segment
Fewer replacement parts, lower environmental impact
With a simple design and smart construction, our inkjet printers require 59% fewer replacement parts over time3. This keeps periodic parts replacements down, and results in reduced waste and time spent carrying out replacements and maintenance.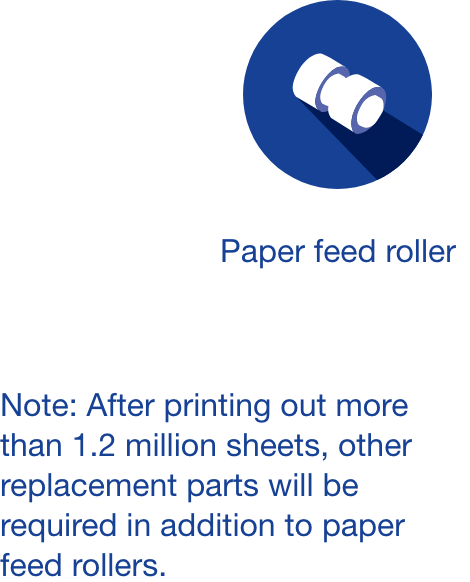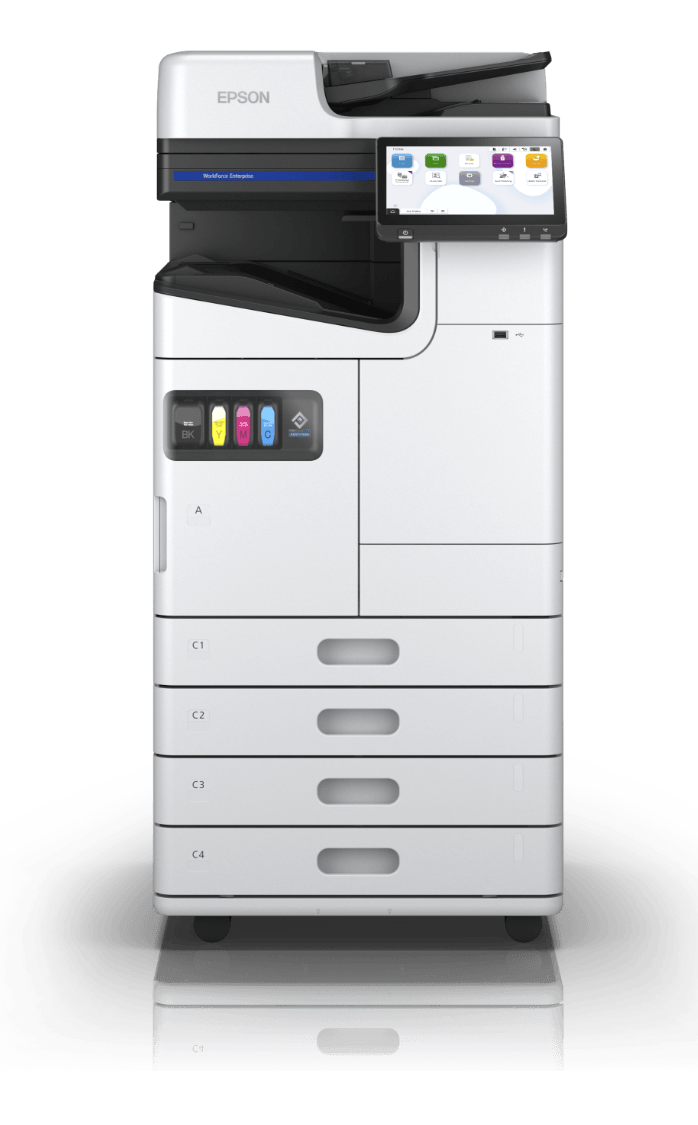 Epson Business Inkjet Printer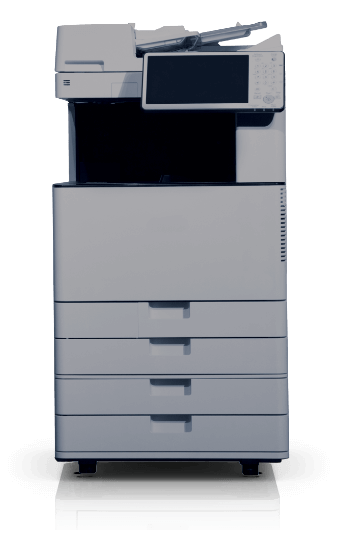 Laser Printer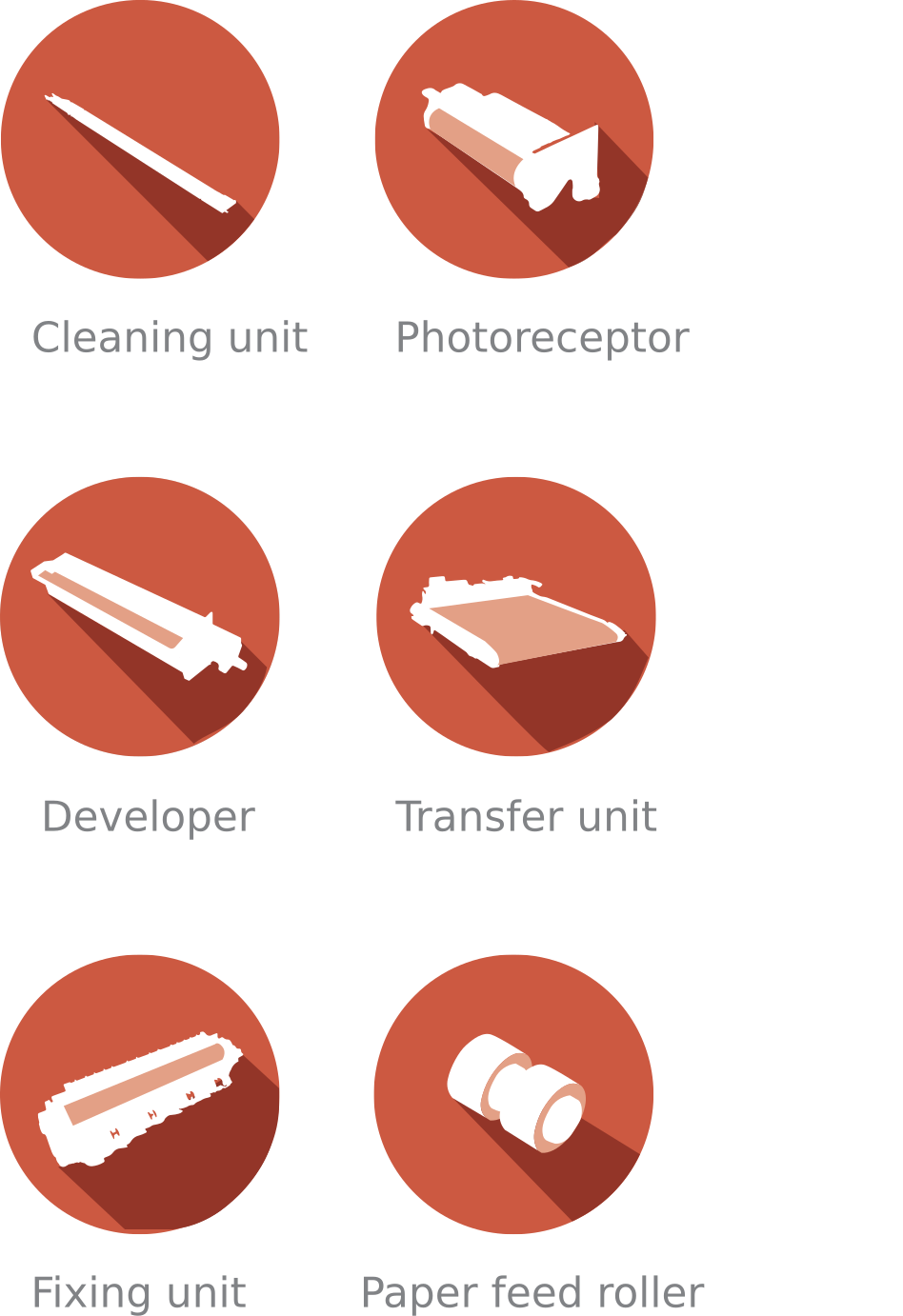 Superb
quality prints
Achieve laser-quality prints with Epson's DURABrite pigment inks that are resistant to water, fading, and smudges. Their high ink yield capacity helps to lower the cost per print for your business.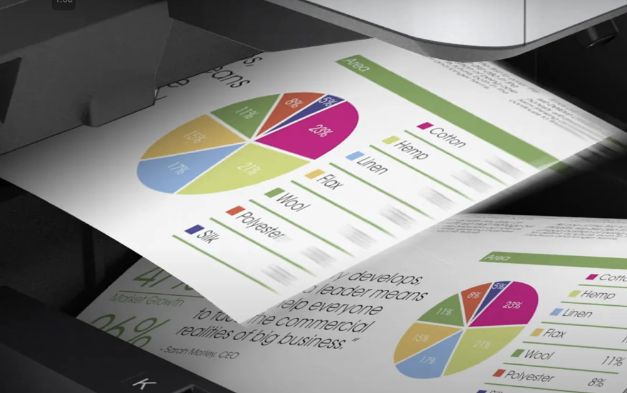 High-volume printing at blazing-fast speeds
Print speeds of up to 100 pages per minute, comparable to laser printers of the same class.
Pigment inks suitable for business printing
Epson's Business Inkjet Printers use water-based pigment inks that are designed to offer high image quality, ease of storage and clear colour printing.

Our pigment inks are highly water resistant and do not dissolve in water, making them much less susceptible to bleeding, in addition to being fade and smudge resistant.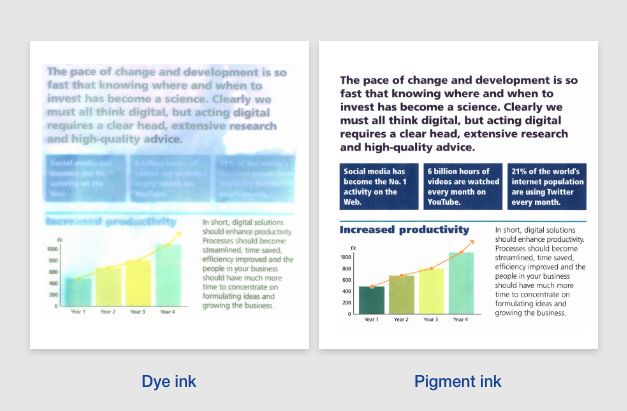 Streamlined workflows
and seamless printing
Take advantage of remote management, customisable print options, and enjoy seamless compatibility with our business inkjet printers* which integrate with your existing IT infrastructure. For more information, please visit our Software Solutions page.

*Applicable to selected models

Fleet Management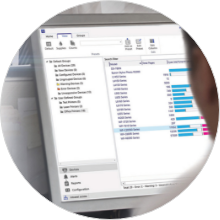 Epson Device Admin

Monitor and receive timely alerts about the device status for maximum uptime. Improve cost savings with advance reporting features.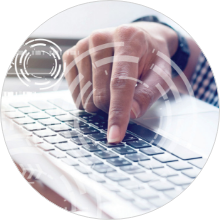 Epson Remote Services (ERS)

Achieve maximum uptime by simplifying customer management and service with a one-stop cloud-based portal. Run managed print services without setting up an infrastructure.

Print Management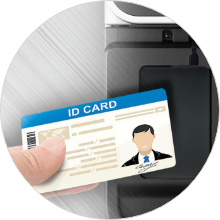 Epson Print Admin

Server-based solution that creates a secure printing and document distribution environment through authentication. Reduce cost by setting rules and quota management.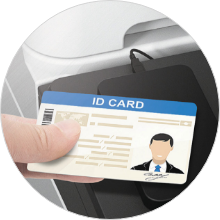 Epson Print Admin Serverless

Create a secure printing and document distribution environment through authentication without a server.

Document Management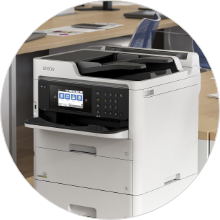 Document Capture Pro

Create up to 30 customised scan workflows for automated processing at the touch of a button. Create searchable PDF or output to editable office documents and upload them to popular cloud services.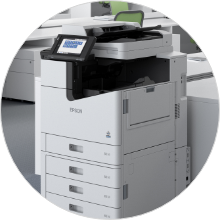 Document Capture Pro Server

Control up to 1,000 scanning devices and concurrent usage of up to 40 these devices with a single server. Perform document distribution and workflow features can now be easily accessed from the device panel directly.
Find the right fit for your business
with our range of business printers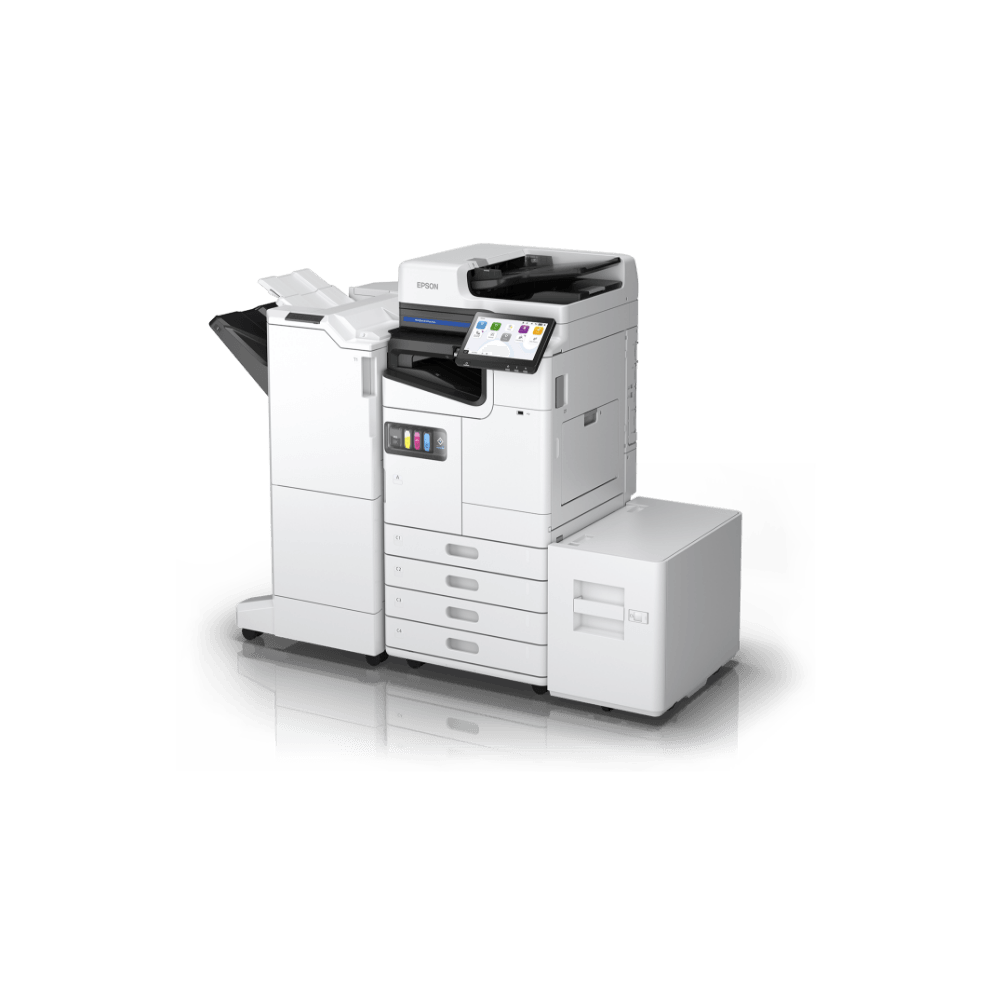 AM-C6000

High-speed printing with Heat-Free Technology

Powered by Heat-Free Technology, these multifunction business printers offer excellent scalability for your business with low running costs. With print speed ranging from 40-60 ppm, enjoy added business productivity with the WorkForce Enterprise AM-series printer.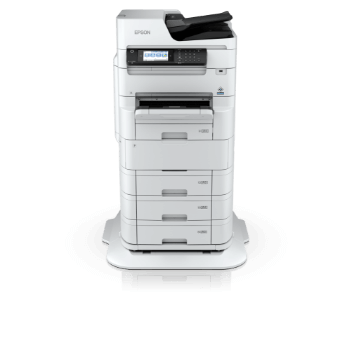 WF-C879R

Built for performance, made for the environment

Low-cost, durable and extremely reliable printing, the Epson WorkForce Pro WF-C879R Business Inkjet printers have speeds of up to 26 ipm with a first colour page-out time in just 5.5 secs. Ideal for workgroups that require hassle-free, low-maintenance and high-volume printing.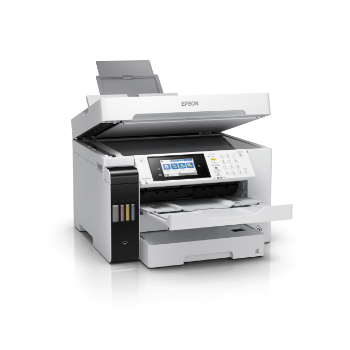 L15180

Low cost, high-volume business quality A3 printing

Looking for a cost-effective solution for duplex printing and scanning? Epson EcoTank L15180 is what your business needs with the latest DURABrite ET ink for sharper, clearer and more durable prints that are also water resistant.
Talk to us
For more information or to request a demo, please complete the form below.
Testing was commissioned by Epson and conducted by Keypoint Intelligence. One specific model was selected from color laser multi-function printers in the 65-70ppm class. Epson WorkForce Enterprise WF-C21000 with 100ppm (equivalent model in Europe was used during the evaluation). This data is as of September, 2020. Devices were tested in default mode as per Keypoint Intelligence's proprietary standard energy consumption test methods. Calculations were based on a weekday workload of 2 x 4 hours printing + 16 hours in sleep/standby mode, and weekend energy use of 48 hours in sleep/standby mode. A total of 69 pages of workload test pattern using DOC, XLS, PPT, HTML, PDF files and Outlook email messages were printed six times in each 4-hour printing period.
Annual CO2 output calculations were based on JEMAI-LCA Pro. Cedar tree CO2 absorption calculations were based on Japan Forestry Agency standards of 8.8kg CO2 per annum per tree.
Up to 59% fewer replacement parts of Epson inkjet printers vs laser printers. Testing was commissioned by Epson and conducted by Keypoint Intelligence. One competitor model was selected from worldwide best-selling vendor* in the 65ppm and 70ppm colour laser multi-function printer. Epson Work Force Enterprise WF-C20600 with 60ppm (equivalent model in Europe was used during the evaluation). Consumables and periodic replacement parts required to print 1M pages. The weight includes all used consumables, periodical replacement parts and their packaging. Test printed pattern used was ISO24712.