Epson Exhibition Canvas Gloss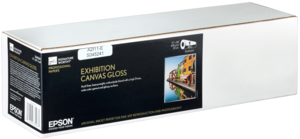 The Exhibition Canvas Gloss is an elegantly textured canvas that features a soft artistic coating that adds elegance and finesse to the image, enabling it to produce rich and vibrant colours, on top of museum-grade image quality and durability.
It has been optimized for Epson UltraChrome™ Ink to ensure excellent output, coupled with high tensile strength and flexibility for gallery wrap stretching without cracking, giving the best combination of image quality and archival display life.
Applications include museum quality photographic work and fine art work.